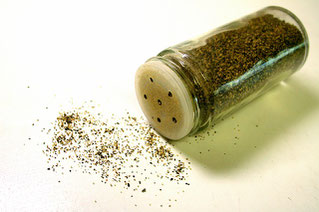 You love fruit.
It's a yummy, healthy low-cal treat that satisfies your sweet tooth.
Want it even sweeter?
Cover it in pepper.
Black pepper. Or other kinds of pepper, if you want to.
Skeptical?
So was I. But now I'm hooked.
Here's why you will be, too.
Why Black Pepper Works on Fruit
Black pepper is the new salt when it comes to fruit and fruit desserts.
Why?
1. It deepens, and enhances, the flavor.
2. It brings out the sweetness even more (even though it's a spicy spice).
3. It brings out a deeper, better flavor on unexpected foods.
Fruits Black Pepper Enhances
Here are some fruits that are great with pepper:
     ·         Watermelon
     ·         Cantaloupes
     ·         Honeydew
     ·         Pineapple
     ·         Cherries
     ·         Mango
     ·         Kiwi
     ·         Stone Fruit
     ·         Oranges
     ·         Pomegranates
Desserts That Work with Pepper
Yum. Here are some fruity desserts you can whip up with pepper:
1. Fluffy Orange Fruit
Add one orange (sliced) to one fat-free tub of whipped topping; fold in one packet of sugar-free orange jello. Add one small container of fat-free cottage cheese. Add pepper to taste. Mix well. Chill and serve.
2. Zesty Raspberry Fluff
Pour one individual serving of fat-free raspberry yogurt into a bowl; add 10 raspberries. Add 1 tablespoon of fat-free whipped topping, then black pepper to taste. Stir well. Enjoy!
3. Cherry Yummy
Pit and dice 8 fresh cherries; add them to fat-free black cherry yogurt. Add 1 tablespoon low-fat granola, then black pepper to taste. Stir. Dive in.
4. Grilled Pineapple and Watermelon with Ice Cream (Yuuuuuummmmmm!)
Grill fresh pineapple and watermelon, but add black pepper before you pop it on the grill. Feeling adventurous? Add more while it's grilling. Remove from heat; top with one serving of low-fat vanilla ice cream. Dig it! (You don't even have to share if you don't want to!)
Try it. Your taste buds will love all the extra sweetness!
Most fruit, especially melons and berries, blend well with pepper. So, add it to any fruit salad, grilled fruit, or fruit dessert.
Other Peppers to Try
IF you aren't a black pepper fan, you might not know there are other pepper types out there to try.
If you're feeling adventurous, here are some other types of pepper spices to try:
1. Black peppercorns: Traditional hot, spicy flavor; sprinkle more on for more spiciness!
2. White Peppercorns: Spicy flavor, like black pepper (Tip: White pepper comes from the same plant as black pepper, but the dark-colored skin is removed before they grind it.)
3. Green Peppercorns: Milder flavor; fresh taste.
4. Pink Peppercorns: Sweet and fruity, with a spicy, peppery finish.
Which one do you wanna try first on your fruit?
Here are a few brands you might like to try:
1.      Organic Black Pepper: Starwest Botanicals Organic Malabar Black Pepper (Kosher)
2.      Organic White Pepper: Frontier Organic Peppercorn Spice - Ceylon White
3.      Green Peppercorns: Badia Green Pepper Whole, 9 Ounce
4.      Pink Peppercorns: Pink Peppercorns by Hoosier Hill Farm, 4.0 oz
5.      Assorted Peppercorns (for a burst of flavorful variety!): Yankee Traders Brand Peppercorns, Rainbow Assorted Whole, 8 Ounce.
I don't know about you, but I love them all!
But, I'm a HUGE pepper fan, anyway.
Are you? Or do you still have your hand on that salt shaker?
Just try it. You might like it.
Heck, you might even LOVE it!