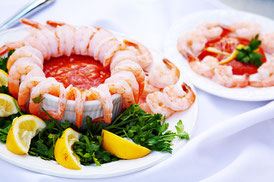 Yum. This is gonna become one of your favorite quick, low-cal dishes.
Boiled shrimp is high in protein but low in fat and carbs.
It's simple. It's easy to eat.
AND it's looks fabulous!
You can serve it to dinner guests (try serving it in a margarita glass).
But, there are a couple things you might wanna know to get the freshest, most yummy taste.
Buying Your Shrimp
If you can get fresh seafood, from your local seafood market, then do it.
And if they'll clean it, and devein it for you, that's even better.
But if you can't, or don't live near a good seafood market, you should buy it frozen.
It's frozen right after it's caught, so that's the next best thing to fresh.
Type to Buy
When shopping for shrimp, you have some choices:
1.      Cooked or Uncooked
2.      Cleaned and deveined or not cleaned/deveined
Of course, you should buy what you prefer.
But for the price difference (which ain't much!), you can save yourself some time and buy the cooked/cleaned variety.
(Isn't your time worth it, honey?).
Since it's already cooked and cleaned, all you'll need to do is follow the thawing directions on the package.
Easy-Peezy.
The Ingredient List
When you buy shrimp, make sure that shrimp is the only ingredient.
You don't want preservatives added.
Or anything else you can't pronounce. You just want shrimp. If it's frozen properly, it'll last for weeks.
Just make sure to check the expiration date and eat it before it expires.
One more thing: Don't let it thaw, then refreeze it; that might cause freezer burn or affect the freshness.
If it thaws, EAT it.
The Recipe
This is so simple; so much so that I hate to call it a "recipe."
SO, let's call it a cooking tip, LOL… okay?
Here's your tip:
Depending on the size of the shrimp, or the serving size you want, remove that number of shrimp from the bag and follow the thawing directions (7-8 is a typical serving size for shrimp cocktail; if this is your whole meal, you may want more J).
In most cases, it will probably tell you to place it in a colander, and run it under cold water until it thaws. (How easy is that?!)
After thawing, drain it well.
Then refrigerate it until it's well chilled (4-5 hours).
Make the Sauce
For one serving:
Ingredients:
¼ cup Stevia sweetened ketchup (like the Alterna Sweets Classic Tomato Ketchup)
(OR you can use Heinz® reduced sugar ketchup, if you can't find a sugar-free option. It has 75% less sugar than the regular variety.)
1-2 teaspoons of prepared horseradish sauce (depending on how spicy you like yours!)
Instructions:
Mix the two ingredients together.
Chill it in the fridge until you're ready to eat.
Now, just sit down and enjoy it with your shrimp!
Nutrition information for one serving (8 medium shrimp, with sauce) *:
Calories: 160

Carbs: 13.36 g

Fat: 1.44 g

Protein: 20.08 g

Sodium: 1456 mg

Cholesterol: 232 mg

 
Sugar: 4 g
*Nutrition information is approximate.